Before leaving for the summer holidays I want to talk about one of the most useful and nice tools I use in my work: Notion
What's notion? I can't really answer this question because it's such a versatile tool that everyone uses it differently. I use it to keep notes, to learn languages, to plan hikes and many other things, but in this post I'll just talk about how I use it in my days as a freelancer.
Tech notes
I've always had notes scattered everywhere to remind myself of some concepts or simple commands (Google Drive, notepad, Trello boards..). In notion I can keep all my notes in one place, in an orderly way, easy to consult and good-looking .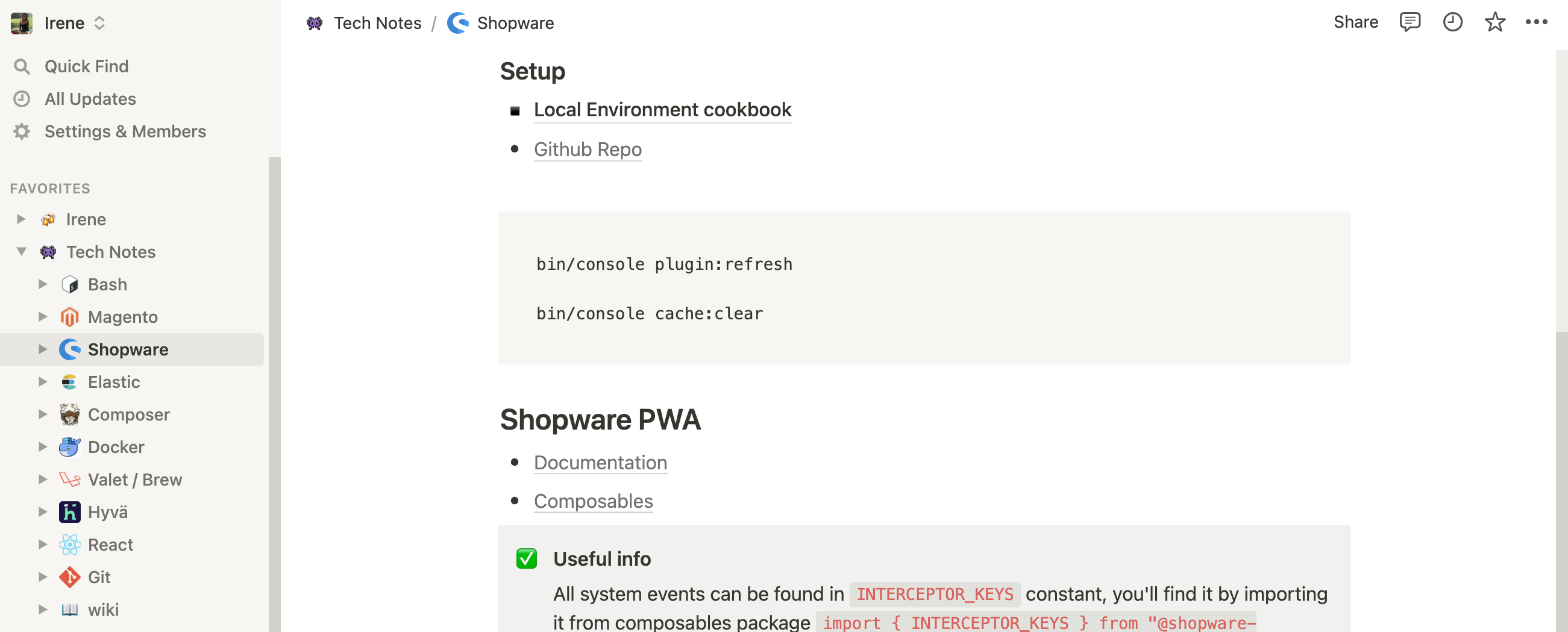 If I don't remember where I wrote something, no problem. The search is very efficient and fast. How Should I create a new user in Magento? Just click on quick search in top left corner and enjoy your results. Search is filterable

Project documentation
Also, for project documentation Notion is a great solution. It's possible to take notes, insert blocks of code and even simple Kanban boards.
I often link some Teck notes in the project documentation (see previous paragraph). This is very convenient because then I find them in the backlinks and I can easily switch between one section of my space and another.

Accounting
Unfortunately, this is the function I use the most. Notion allows you to create spreadsheets that have nothing to envy to excel (at least for those who don't make an advanced use of it, like me)
You can keep track of the rates, the status of your invoices and store client information.
The database Table View is really powerful. For example, I have a database for invoices that I can filter to get a pretty good reporting about my financial situation. And freelancers know how this is important not to go crazy with the calculations at the end of the year.

Reading list
Last but not least I have a reading list for the technical posts I find around the internet. There are always more of them than I can actually read.
And now I'm gonna say goodbye! I'm off on vacation.